Experience the harmony of nature at the Foellinger-Freimann Botanical Conservatory!
The Botanical Conservatory is a unique oasis in the heart of downtown Fort Wayne and a public garden that offers a true sanctuary for tranquility, learning, and beauty. As one of the crown jewels of the Fort Wayne Parks and Recreation Department, the Conservatory is a regional facility dedicated to providing inspiration, education, and entertainment for our community.
We invite you to explore:
Three indoor gardens that encourage experiential learning and offer four annual exhibits that combine a fun, interactive visit with seasonal plants and beauty.
A cultural anchor that provides numerous horticultural programs, youth education, special events, concerts, workshops, meeting spaces, and volunteer opportunities.


Access to a diverse plant collection ~ where else nearby will you find a chocolate tree, cacti, and palms? Plus 2,000 plants from 1,000 varieties ~ all with a direct connection to nature.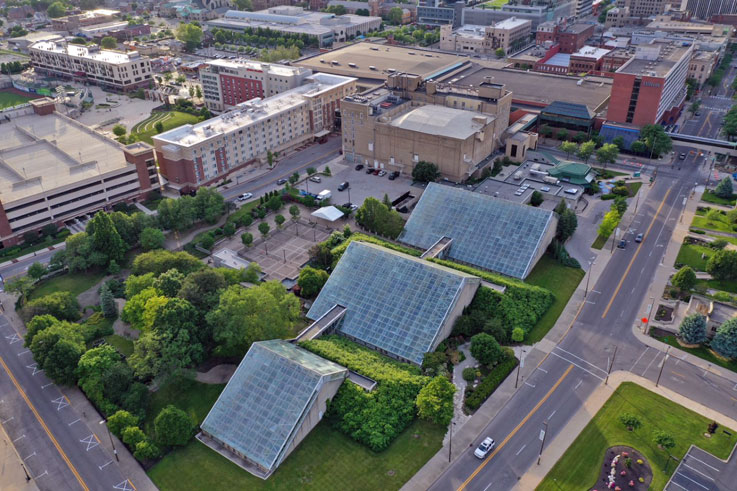 The Beginning:
The Botanical Conservatory began as an idea between two good friends who wanted Fort Wayne to have an indoor sanctuary to enjoy the wonders of nature. Helene Foellinger, publisher of the News-Sentinel, and Bill Sowers, a local attorney and trustee, often visited gardens around the world together and wanted to share the same beauty with the people of Fort Wayne .
The two friends joined forces and secured the resources to begin construction and make the dream a reality. With backing from the City of Fort Wayne, the Foellinger Foundation, the Freimann Trust, and Lincoln National Corporation, the Conservatory opened in 1983, providing a unique botanical oasis.
Today:
The Conservatory offers four changing showcases each year, houses 24,500 square feet of indoor gardens with a vast plant collection, maintains four outdoor gardens and serves thousands of schoolchildren, residents, tourists and visitors from around the world. The Conservatory also serves as a plant rescue center for endangered species and as a regional clearinghouse for plant information. Programs and special events throughout the year allow the community to enjoy the facility while exploring the complex relationships between the plant world and mankind.
We welcome you to explore the wonders of nature at the Conservatory gardens including four outdoor gardens that feature scenic vistas, plazas, shaded pathways, seasonal plantings and Midwestern trees and shrubs.
Please visit us soon, we look forward to seeing you!
Did you know...?
A beefsteak begonia was the first plant installed in the gardens.
The Conservatory welcomed its 1 millionth visitor in 1996.
The gardens are home to nearly 1,000 varieties of plants including 72 types of cactus.
The Conservatory celebrated its 25th anniversary in 2008!
The Conservatory will host its 20th annual live butterfly display in 2023.
In November 2023, the Conservatory will celebrate its 40th anniversary!
The Botanical Conservatory is owned and operated by the Fort Wayne Parks and Recreation Department and supported by our charity of record: the Fort Wayne Park Foundation.