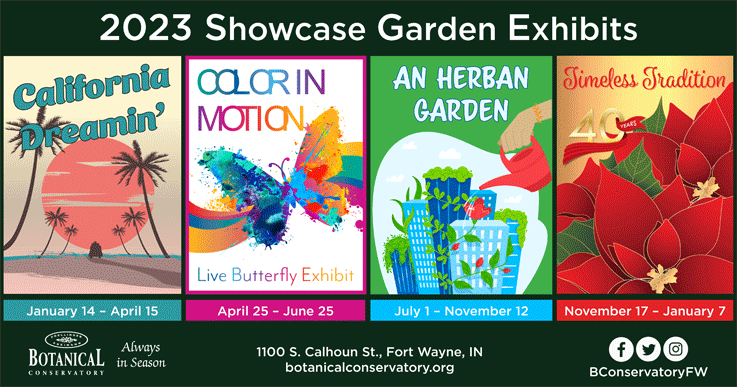 Showcase Garden ~ 2023 Exhibitions
Immerse yourself in a landscape painted with colorful flowers. Our Showcase Garden changes four times a year to celebrate the changing seasons.
Visit often to see winter flowers, bulbs and spring flowers, summer bloomers, mums and fall flowers and poinsettias.
2023 Showcase Garden Sponsors
English Bonter Mitchell Foundation and Waterfield Foundation
2023 Exhibits Include:

"Color in Motion" Live Butterfly Exhibit
"An Herban Garden"
"Timeless Tradition"
2023 Show Change Weeks
Visit the Conservatory during Show Change weeks (as listed below) and receive $1 off admission. Dates subject to change.
Additional information about the 2023 Showcase Exhibits is now available.
June 26-June 30, 2023
November 13-17, 2023
January 8-12, 2024