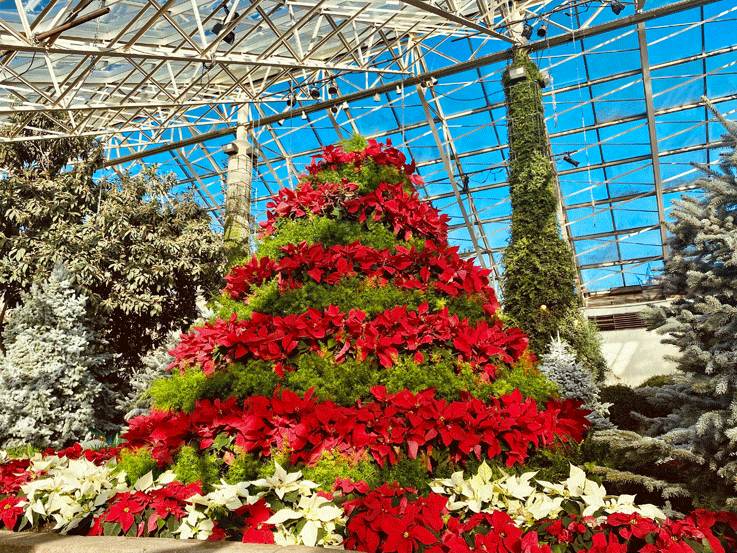 Check out the
Winter Fun Times
with information on all of the Conservatory Events and programs or
Register NOW
for more fun! The Conservatory is now open every Thursday night from 5-8 pm for $1 admission. All events and exhibitions are regularly priced admission unless otherwise noted.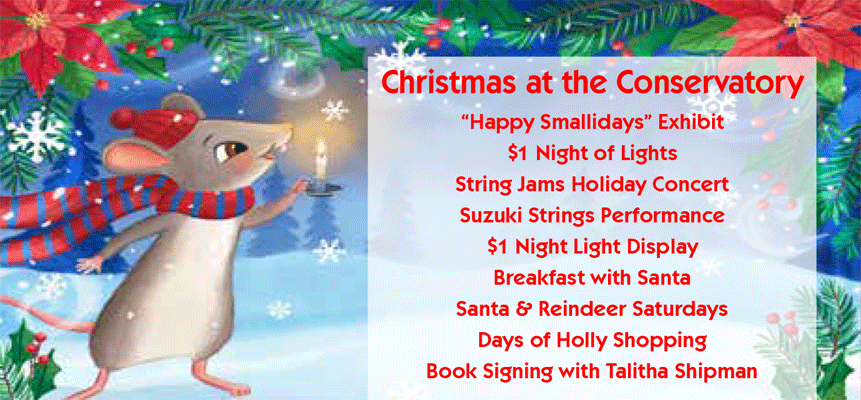 Upcoming Special Events and Exhibits
"Happy Smallidays" Exhibit including loads of Christmas events
Winterval at the Conservatory
Sweetheart Orchid Display
"California Dreamin' Showcase Exhibit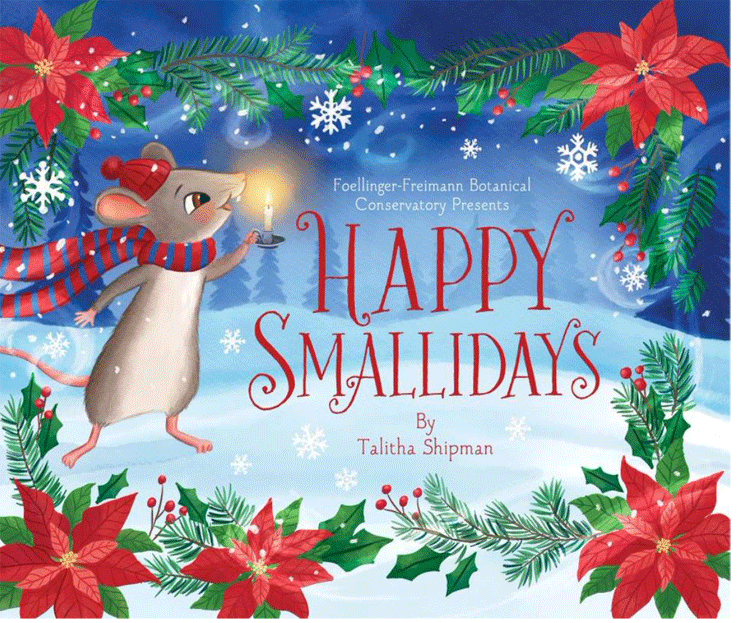 Book Signing– Talitha Shipman
Saturday, December 17, 11:00 a.m.-1:00 p.m.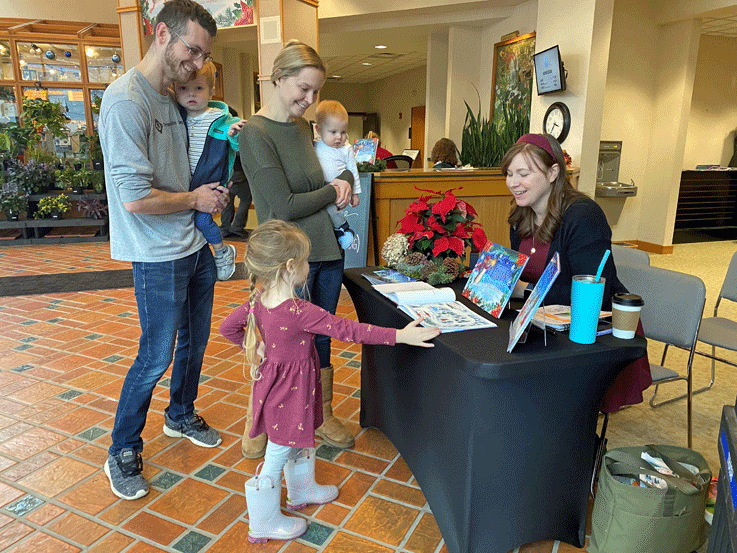 The Botanical Conservatory is proud to present "Happy Smallidays" by Talitha Shipman. Don't miss out on this chance to visit during the holidays and not only experience the corresponding garden exhibit, but to also meet the author and illustrator herself! Through her various picture books, Talitha wishes to encourage curiosity and creativity in children of all ages. Her latest book, "Happy Smallidays," inspires Conservatory visitors to find joy in the little things. All are invited to journey with Little Mouse through the Magical Winter Woods as he discovers the value of slowing down to take in the wonder and warmth of the holiday season. Books are available for purchase in the Conservatory Shop. Admission is not required as part of this book signing event.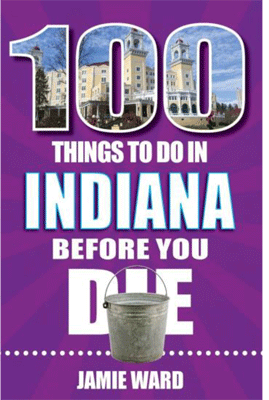 Book Signing: Jamie Ward
Saturday, November 26, 1:00-3:00 p.m.
Hoops, race cars and bison? Enter "100 Things to Do in Indiana Before You Die" and discover many wonders throughout our Hoosier state. With this handy guidebook, you will learn of numerous opportunities to explore historical, culinary, artistic and natural delights that make for an epic travel experience. Local author and native Jamie Ward offers intriguing tips that even other Indiana natives find novel. During her book signing event at the Botanical Conservatory, come meet Jamie and ask about her favorite spots. Perhaps, you will walk away with OVER 100 things to do in Indiana! Books are available for purchase in the Conservatory Shop. Admission is not required.
2022 Conservatory Art Displays


Art Displays
Enjoy stunning works of art by local and regional artists in the Jaenicke Room that is open to view during public hours at the Botanical Conservatory. Regular admission fees apply to each exhibit and public reception. Submit your own artwork for consideration by e-mailing This email address is being protected from spambots. You need JavaScript enabled to view it.
Meghan Wilhelm: Presence
November 19-January 5
Public Reception: December 18, 1:00-3:00 p.m.
Meghan Wilhelm is an artist and illustrator from Fort Wayne, IN. While she participates in various local art initiatives, her artwork has also been exhibited at a national level. "Presence" at the Botanical Conservatory collects the body of work created as Meghan's senior thesis project. Since her graduation from the Herron School of Art and Design, these animal themed pieces are being exhibited together for the first time! The sole concept behind the collection is to explore the impact and, namely, the presence that animals invoke on the environments they live in. Each piece also serves to meld an interest in both the natural and fantastical, as well as bring light to the importance of several notable endangered species.
Kerstin Glaess: Seascapes
January 14-April 15
Public Reception: February 19, 1:00-3:00 p.m.
Kerstin Glaess is an award-winning multidisciplinary artist working primarily in oil, collage and photography. She is best known for her paintings based on photographs and memories from her worldwide military adventures as a child. Kerstin continues to be inspired by a nature collection of flora, fauna and landscapes from her various homes across two continents, two countries, eleven states, one U.S. Territory and counting! Her diverse collection of collages and drawings focus on the shared human experience teasing the borders between dreamscapes and reality. Seascapes is fittingly on display during the "California Dreamin" garden exhibit at the Botanical Conservatory.